Mushroom Rock Walk Trail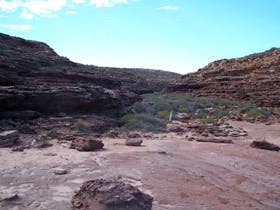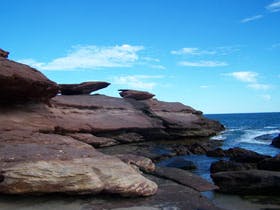 Mushroom Rock Trail is a leisurely two hour walk track within Kalbarri National Park that leads you to the unusual sight of Mushroom Rock and the spectacular Rainbow Valley gorge. Read the information plaques along the trail to learn fascinating information about the flora and fauna in the park and the geological features of the rock and gorge. Capture the fascinating Mushroom Rock on camera from various angles along the trail. Its shape has been created by the strong winds and water eroding away the rock over many years. Marvel at the rugged Kalbarri coastline and the spectacular sight of fierce ocean waves pounding against the red cliffs of Rainbow Valley. Located six and a half hours drive north of Perth and a short drive from Kalbarri, the Mushroom Rock Trail is just one of many picturesque walk trails within the Kalbarri National Park. If you are planning on staying overnight be aware that camping is not permitted in the park, however, plenty of excellent accommodation and camping grounds are offered in the nearby town.
Location: via Mushroom Rock Road, Kalbarri, INDIAN OCEAN DRIVE, Western Australia, Australia
Email: bookings@kalbarri.org.au
Phone: () 1800 639 468
Property Owners: We have a high demand for holiday homes in Kalbarri and are currently taking on more listings. Increase your income by making your Kalbarri property available for holiday rental within this high ranking site. If you would like to learn more about renting your holiday home through Kalbarri Accommodation, contact our team.
Please refer to our Terms and Conditions, WebSite Disclaimer, and Privacy Policy.
Also browse our lists of Accommodation Types and Location