Hawk's Head Lookout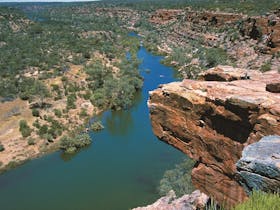 Hawk's Head Lookout is a spectacular vantage point located within the Kalbarri National Park. It provides stunning views of the river gorge and the Murchison River. Named in honour of a hawk shaped rock formation visible from the lookout, it will keep the family amused seeing who can spot the hawks head first! Kalbarri National Park is one of the best known national parks in Australia with an exceptional display of wildflowers between mid-June and October, with peak time around August. There are several species that can only be found within the park, including the Kalbarri spider orchid. The views are breathtaking and with the Murchison River winding its way through the park, there are several beautiful swimming spots to enjoy. Located six and a half hours' drive north of Perth and a short drive from Kalbarri, Hawk's Head Lookout is one of a number of lookouts through the Kalbarri National Park that are well worth a visit.
Location: Kalbarri National Park, Kalbarri, INDIAN OCEAN DRIVE, Western Australia, Australia
Email: bookings@kalbarri.org.au
Phone: (08) 9937 1104
Website: www.kalbarri.org.au
Property Owners: We have a high demand for holiday homes in Kalbarri and are currently taking on more listings. Increase your income by making your Kalbarri property available for holiday rental within this high ranking site. If you would like to learn more about renting your holiday home through Kalbarri Accommodation, contact our team.
Please refer to our Terms and Conditions, WebSite Disclaimer, and Privacy Policy.
Also browse our lists of Accommodation Types and Location