Island Rock and Natural Bridge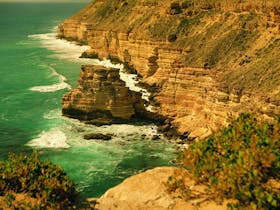 Yielding to the forces of the ocean, Island Rock and Natural Bridge have been spectacularly sculpted by the fracturing and decaying of the cliffs offering the viewer some amazing precarious rock formations. Visitors can view these formations from the safety of lookout enclosures that have been provided. A newly constructed boardwalk links these two sites and provides an amazing vista along the cliff tops (1.4 kilometres return). Situated in Kalbarri National Park, contact the Kalbarri Visitor Centre for latest admission fees to the Park.
Location: Kalbarri National Park, Kalbarri, INDIAN OCEAN DRIVE, Western Australia, Australia
Email: bookings@kalbarri.org.au
Phone: () 1800 639 468
Website: www.kalbarri.org.au
Property Owners: We have a high demand for holiday homes in Kalbarri and are currently taking on more listings. Increase your income by making your Kalbarri property available for holiday rental within this high ranking site. If you would like to learn more about renting your holiday home through Kalbarri Accommodation, contact our team.
Please refer to our Terms and Conditions, WebSite Disclaimer, and Privacy Policy.
Also browse our lists of Accommodation Types and Location