Eagle Gorge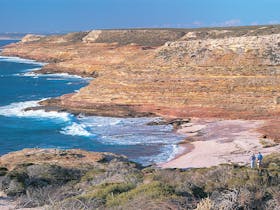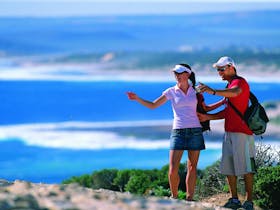 Eagle Gorge in the Kalbarri National Park offers spectacular views of the Murchison River and the interior of the park from its peak. Named after the wedge-tailed eagles that live in the gorge, keep and eye out for these magnificent birds that can often be seen in nests and soaring through the sky searching for prey. Travel down into the gorge for a swim and explore the glorious countryside on foot. If you can plan your visit for spring you will be welcomed by a profusion of colour as the wildflowers come out in full bloom. The park is famous for its wildflowers and has several species that can only be seen here. Look out for the Kalbarri Spider Orchid and the Kalbarri Catspaw. You will often be lucky enough to see grey kangaroos and emus as well. Located six and a half hours drive north of Perth and a short drive from Kalbarri, Eagle Gorge is just one of many spectacular vantage points within Kalbarri National Park. If you are planning on staying overnight be aware that camping is not permitted in the park, however, plenty of excellent accommodation is available in town.
Location: Kalbarri National Park, Kalbarri, INDIAN OCEAN DRIVE, Western Australia, Australia
Email: bookings@kalbarri.org.au
Phone: () 1800 639 468
Website: www.kalbarri.org.au
Property Owners: We have a high demand for holiday homes in Kalbarri and are currently taking on more listings. Increase your income by making your Kalbarri property available for holiday rental within this high ranking site. If you would like to learn more about renting your holiday home through Kalbarri Accommodation, contact our team.
Please refer to our Terms and Conditions, WebSite Disclaimer, and Privacy Policy.
Also browse our lists of Accommodation Types and Location