Loop Walk, Kalbarri National Park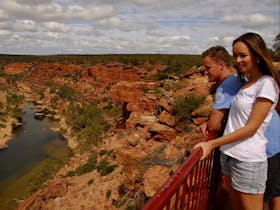 The Loop Walk Top Trail highlights the erosive power of the Murchison River which has carved a spectacular gorge through the Kalbarri National Park in Western Australia's Coral Coast region. Highlights include the iconic 'Natures Window', a natural rock formation which frames the Murchison Gorge. The moderate, eight kilometre Loop Walk Trail starts at the car park for Nature's Window which's a major tourist attraction. Marked by directional markers the trail follows the edge of the cliff, with views of the river. From here the trail works its way down to the river bank. Along the river are sandy beaches, river gums and the possibility of swimming. On the other side of the river, some of the cliffs show magnificent shades of red and pink. Before the river bends towards the Indian Ocean, the trail climbs out of the gorge back up to Nature's Window and back to the car park. Inside the gorge and the temperature can rise, so carry plenty of drinking water (minimum three litres per person). Sometimes the trail follows rock platforms and this can be a scramble at times. Be alert to weather forecasts as the river and gorges can flood after heavy rain.
Location: Natures Window Car park, Kalbarri, INDIAN OCEAN DRIVE, Western Australia, Australia
Phone: (08) 9921 5955
Website: www.trailswa.com.au
Property Owners: We have a high demand for holiday homes in Kalbarri and are currently taking on more listings. Increase your income by making your Kalbarri property available for holiday rental within this high ranking site. If you would like to learn more about renting your holiday home through Kalbarri Accommodation, contact our team.
Please refer to our Terms and Conditions, WebSite Disclaimer, and Privacy Policy.
Also browse our lists of Accommodation Types and Location