Town Centre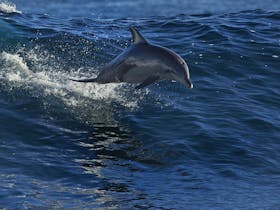 Kalbarri is a picturesque seaside town located 590 kilometres north of Perth, midway along Australia's Coral Coast. The town itself is located at the mouth of the Murchison River, an ideal playground for families to relax, swim, fish and snorkel in the clear, blue waters. Kalbarri Visitor Centre is the first place to visit when you arrive. Located in the main street of town, here you can book tours, accommodation and coach transport with the friendly staff, plus find all the local information on sightseeing, walk trails and what to see and do in the area. River Foreshore A beautifully maintained foreshore with shady trees, shelter huts and playgrounds with barbecues. Chinaman's Where the river meets the sea, an ideal place to swim in the calm sheltered water, great for kids. Back Beach A 10 minute walk from town, this is a great place for exploring rock pools at low tide. Trails from this area lead to Chinaman's Point and the Zuytdorp memorial lookout. Blue Holes Declared as a Fish Habitat Protection Area (FHPA) in 2007, it is home to more than 70 species of finfish. Jakes Beach, National Surfing Reserve View surfers and dolphins riding this world class wave.
Location: 70 Grey Street, Kalbarri, INDIAN OCEAN DRIVE, Western Australia, Australia
Email: bookings@kalbarri.org.au
Phone: (08) 9937 1104
Website: www.kalbarri.org.au
Property Owners: We have a high demand for holiday homes in Kalbarri and are currently taking on more listings. Increase your income by making your Kalbarri property available for holiday rental within this high ranking site. If you would like to learn more about renting your holiday home through Kalbarri Accommodation, contact our team.
Please refer to our Terms and Conditions, WebSite Disclaimer, and Privacy Policy.
Also browse our lists of Accommodation Types and Location