Flora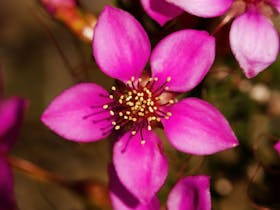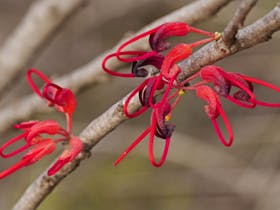 One mention of wildflowers and many people will think of Kalbarri - over 1000 species with many unique to the area. Starting at the end of June through to October, travellers make their way here from all over the world to witness the transformation. The coastal areas of the national park boast just as many as the inland areas. Make your way inland and the sand plains become carpets of pink and white everlastings and orange immortelles, jostling for space between starflowers, kangaroo paws, featherflowers and orchids to name just a few. One of the last flowers to emerge is the aptly named smelly socks (white plume grevillia). With the flowers on the end of long stalks and low grevillia shrubbery, these beautiful flowers attract many insects and release a sickly sweet smell at dusk and into the evening. At the northern entrance of the national park visitors will notice pine trees along the roadside, these sandplain cypress (actinostrobus) are native to the area. Kalbarri Visitor Centre keeps up to date with what's flowering where, pop in to see the friendly staff for a wildflower update.
Location: 70 Grey Street , Kalbarri, INDIAN OCEAN DRIVE, Western Australia, Australia
Location: PO Box 219, Kalbarri, Western Australia, Australia
Email: booking@kalbarri.org.au
Phone: () 1800 639 468
Website: www.kalbarri.org.au
Property Owners: We have a high demand for holiday homes in Kalbarri and are currently taking on more listings. Increase your income by making your Kalbarri property available for holiday rental within this high ranking site. If you would like to learn more about renting your holiday home through Kalbarri Accommodation, contact our team.
Please refer to our Terms and Conditions, WebSite Disclaimer, and Privacy Policy.
Also browse our lists of Accommodation Types and Location