Gantheaume Bay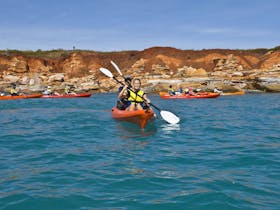 The striking red sandstone cliffs that tower over Gantheaume Bay have been over 400 million years in the making and were once part of an ancient coral reef system. They're the perfect vantage points for spotting dolphins and migrating humpback whales, or taking in the dramatic landscapes of Kalbarri National Park. The coastal waters below also offer some of the best fishing and surfing spots in WA. Kalbarri is a six and a half hour drive or a one and a half hour flight north of Perth, and you'll find Gantheaume Bay stretching for over 13 kilometres along Kalbarri's coast, from the southern end of Kalbarri National Park to the remote Zuytdorp Cliffs. For a 360 of Kalbarri, Murchison River and Gantheaume Bay, take a stroll from town to Meanarra Hill Lookout. Venture further south on the sign-posted pathways and drive trails to Kalbarri's coastal cliffs and explore some of the colourful rock formations on foot. Or take a scenic flight over Gantheaume Bay, Kalbarri National Park and the Abrolhos Islands to the south. Join a fishing charter to chase your own dinner, or head to Jake's Point and test your surfing prowess on some of Australia's most powerful left-handers.
Location: Memorial Road, Kalbarri, INDIAN OCEAN DRIVE, Western Australia, Australia
Website: https://beachsafe.org.au/beach/wa/northampton/kalbarri/gantheaume-bay
Property Owners: We have a high demand for holiday homes in Kalbarri and are currently taking on more listings. Increase your income by making your Kalbarri property available for holiday rental within this high ranking site. If you would like to learn more about renting your holiday home through Kalbarri Accommodation, contact our team.
Please refer to our Terms and Conditions, WebSite Disclaimer, and Privacy Policy.
Also browse our lists of Accommodation Types and Location